Where is telco retail at? A closer look at telco retail strategies
At NTS Retail, we enjoy the privilege to engage in countless conversations with leading telco retail executives and learn about their retail objectives and visions. During the past four years, we took their inputs and distilled them into a report that tells us more about strategies telcos identified as critical in order to succeed before, during, and after the pandemic. If you haven't checked out our report on winning telco retail strategies yet – here's the link.
In this blog post, we'll take a closer look at these key retail strategies and their evolvement under the influence of the pandemic.
The list of top retail optimization objectives - before COVID-19
Starting in 2018, our consultants conducted a series of interviews with retail executives from 71 telco companies and CSPs to identify the most relevant retail strategies. Their retail objectives, as stated before the emergence of the 2020 pandemic, can be categorized and ranked as follows:
1. Process optimization
23% of all statements of retail executives relate to the optimization of retail processes. Objectives include digitization and linking of customer touchpoints to provide a holistic service experience for customers. Other focal points address the reduction and acceleration of employee tasks in the areas of stock management, point of sale transactions and customer engagement, but also the support of sales partners and the distribution of SIM cards.
2. Service improvement
At 19%, objectives to improve and expand the service offering at retail touchpoints rank second on the item hitlist. Initiatives to enrich the customer journey such as the implementation of self-service and self-care offerings, appointment handling and digital signage are strongly represented in this category.
3. Sales support & controlling
14% of all statements on the most important retail objectives revolve around better supporting sales associates and sales activities in retail stores and other sales channels. The spectrum ranges from the use of mobile POS solutions to guided selling applications, which can also be used in door-to-door sales or by dealers.
The initiatives also include measures for training store employees, using e-learning methods, with the objective to increase service quality and sales efficiency across various sales channels.
4. Online service improvement
8% of the ongoing or planned initiatives address the optimization of the operators' online channel, prioritizing the expansion of the e-shop offering with features such as recommendation engines. Initiatives also include the use of e-shop solutions directly in stores as part of extensive store digitization projects. In addition, CSPs intend to increase promotion activities to encourage customers to make greater use of their online offering.
5. System or data consolidation
In line with the expansion of online capacities, the consolidation of the retail IT landscape ranks among the top initiatives of CSPs. This consolidation includes the reduction of redundant systems within the BSS stack and the standardization of front-end solutions. Telecom operators are increasingly focusing on the use of device-independent platforms and standardized services to break down data silos.
6. Customer insights & personalization
The top objectives of telecoms also include measures to obtain deeper customer insights with the aim of personalizing customer interaction to a great extent. In many cases, holistic data required for a 360° customer view is only available in a fragmented form and on different systems. Statements show, that valuable data sources such as retail stores are currently not used on a large scale. Therefore initiatives aim to collect more data, required for personalized engagement.
The pandemic changed the retail landscape
Looking at these statements from a time so seemingly long gone, we recognize that most of the retail transformation we now refer to as the "New Normal" is, in fact, not new at all. Telcos started to initiate transformational strategies to redesign their retail environments long before COVID-19, but the pandemic really kicked it into gear.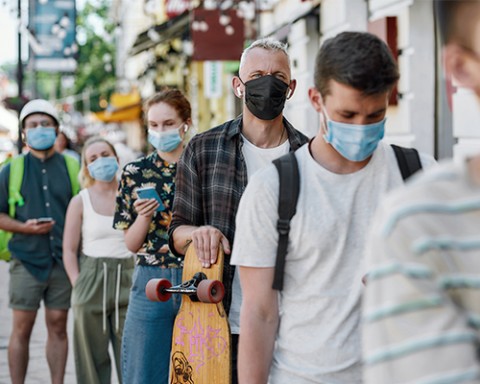 Still, the rules have changed in many ways. It has permanently influenced customer buying behavior. And it has accelerated the pace of a fundamental change in the retail landscape that has already been taking place for some time. In a short term CSPs were forced to re-think and re-prioritize their retail strategies. While many projects were put on hold, others had to be implemented in the shortest possible time to meet the demands that emerged with the pandemic. With a large-scale shift to online, the implementation of digital commerce channels has become a vital lifeline for telecom operators.
At the same time, telcos started to rethink the strategies for their retail outlets. Brands such as Virgin Media and Carphone Warehouse decided to close parts of their retail stores or even their entire retail network. The downsizing of telco retail network is attributable to the cost/benefit effect of retail stores and the competition with online electronics retailers, who often outperform telecom operators in terms of product variety and pricing.
On the other hand, the pandemic has shown the limitations of digital engagement, especially in consultation-driven areas. This is where analog touchpoints show their strength. Enabling direct, personal interactions with rich media use, retail stores provide an unparalleled way to address consumers' very human need to experience products first-hand. Retail stores prove to be a vital element in a modern omnichannel environment. Aware of this many telcos designed new attractive store setups to boost customer engagement acting as service points and a social space offering a blend of digital and analog experiences to consumers.
Just to name a few: Magenta has just introduced its tiny store concept and New Zealand's leading digital service provider Spark designed a flagship store concept that has been shortlisted for the World Retail Awards in the category "Best Customer Experience Initiative – Retailer" alongside international top brands like Nike, Samsung or LEGO.
The retail transformation journey continues
Telcos did a great job to keep people connected during the pandemic. Now that the chaos is slowly giving way to a new normal, CSPs continue to transform their retail concepts into a new practice. From our conversations with retail executives, we identified the following key retail transformation initiatives for 2022 and beyond.
Developing a unified retail strategy
Merging various pathways during the course of a customer's buying journey has become the de facto standard. By following a connected retail strategy, telecoms aim to increase both, customer engagement and revenue across their retail touchpoints. What sounds great in theory is hampered in the daily practice by redundant or siloed systems, inconsistent processes and inefficiencies. Operators struggle to deliver on the promise of a seamless service experience. CSPs must close the remaining gaps to enable a zero-friction experience across their selling worlds. If they won't do that, surely their more agile digital native cousins will.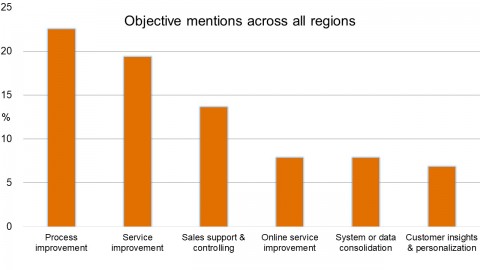 Obtaining deeper customer and store insights
Setting up a unified retail commerce environment involves understanding the customers' way of interacting with the brand. By analyzing their customers' journey, CSPs can identify elements to make interactions simpler, better and safer. Leveraging the digitization of customer engagement to collect more data, helps brands to better understand and meet their customers' needs.
When thinking about using data to optimize customer experience, telecoms can take a closer look at their retail stores as both, a valuable source for data collection and as a place where data can materialize into real-world tools that increase customer satisfaction and drive sales.
Adapting the retail supply chain to support the omnichannel imperative
The need for a faster response to customer demands in an omnichannel context especially affects the retail supply chain. Telecoms need to assess and challenge their stock management according to criteria, such as: Does the system provide an accurate and real-time inventory visibility? Are all sales channels seamlessly interlinked to enable frictionless cross-channel fulfillment processes such as buy-online-pickup-instore and direct to consumer delivery? Does the forecasting system generate relevant and reliable data? Does the system provide employees and customers with easy access to delivery status information?
Only if all these boxes can be ticked off, the role as a retailer can seriously be taken on. Customers are used to effectively becoming the channel they are served on. And it seems impossible to roll that habit back.
Shifting towards open digital architecture
Many service providers have started to rebuild BSS on standardized, open software components and state-of-the-art design principles. Breaking up monolithic architectures and moving to microservice-based architecture goes along with the goals to achieve greater efficiency and agility for innovation while reducing integration, customization and maintenance efforts.
On top of these open commerce platforms, new customer-centric front-end solutions will help telecoms to deliver new customer experience better and faster while leveraging cost-effectiveness. For more information on the shift to platform-based software architectures, check out the interview with our CTO Khaireel Mohamed.
Leveraging new technologies to drive customer-centric experience and efficiency
CSPs start making greater use of technologies such as IoT, biometrics, image recognition, location tracking, smart-checkout, robots or augmented reality and leverage these technologies to optimize stock management, checkout, product recommendations and personalized promotions.
Since customers are demanding more contextualization and personalization, retail executives increasingly build on artificial intelligence to capture deeper insights to anticipate customer needs and create personalized experiences.
Supporting the new role of the store associate
Identifying human interaction as a main asset that is specific to retail stores, the support and motivation of store employees becomes a priority. Especially under difficult conditions and when tensions are high. Well-trained and empowered associates are key to a perfect service experience. Digital tools need to provide support for store associates in their new role as curators rather than sales clerks, helping customers make the best decisions in a consumer world that is overrun with information.
In addition, CSPs need to educate store associates to embrace digital engagement models and provide human interaction experiences to online customers. Advanced digital sales technology can help associates to maintain relationships with online customers in virtual store environments. This way CSPs can provide a digital shopping experience that goes way beyond the limited interactive capabilities of run-of-the-mill e-commerce websites.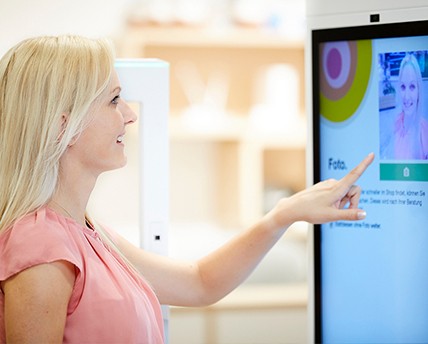 Embracing self-service workflows
To address both, customer convenience and safety aspects, CSPs evaluate options to accelerate time-consuming processes or remove bottlenecks at certain store areas. One aspect is the elimination of waiting lines in retail stores using smart appointment handling, queue management and self-service workflows. The supplementation of assisted enrolment and self-checkout through partial automation can help telecoms to relieve sales staff to provide first-class consulting while saving their customers' valuable time.
Conclusion
The pandemic undoubtedly stirred up the strategic considerations of telco retail executives around the globe. Intermittently, it led to a re-prioritization of objectives and projects, as executives turned back to the drawing board to re-evaluate. But what seemed to be a true change of gear at first, eventually only accelerated a retail transformation that was already underway. There is digitization at the core for sure, but there is no reason to assume that the transformation will culminate in the abolishment of telco retail stores. There are too many different philosophies and customer experience stories in the mix. Customers are too diverse for physical retail not to play a role.
But one thing is clear:  We are observing a fundamental change in consumer behavior, intensified by rising expectations, a greater sense of flexibility and an excess of options on the table. Regardless of the channels and tools customers use, they expect a new quality of interaction in terms of speed, simplicity, and solutions. For telcos, this results in several key challenges and questions they need to address in the short and mid-term:
Where and how can we improve our services?
How can we make it easier for our customers to engage with us?
How can we empower our employees to serve their customers to the fullest?
Where and how can we reduce complexity to be more efficient in our processes and tech stack?
How can our retail channels mirror and complement our sustainability strategy?
How can we accelerate our retail evolution and boost organizational agility?
The answers to these questions, as diverse and manifold as they may come, will determine the course for telco retailers and, ultimately, their chance to succeed.