Understanding channel management and the underlying transformation towards omnichannel
Let's be bold: Channel management has effectively become omnichannel management.
No matter the industry, whether it's telco, consumer electronics or fashion, all businesses have to consider the big picture: the constantly talked about customer journey across all touchpoints.
Does that reflect the reality for most retailers? Well, yes.
But we also continue to make a point about taking into account that each individual channel is still essential for retail, and that smart software solutions are needed to tie all these channels together into one coherent whole in order to gain visibility across all channels. Let us explain.
Content
What is channel management? A definition
Channels represent the different ways companies use to reach their customer base. Each of these is different in how they establish the relationship between the company, the product or service provided, and the customer. Channels are segmented based on customer characteristics (buying patterns, demographics, locations, success factors) as well as various business factors (logistics, legal, franchising, etc.).
Let's look at some examples. Traditionally, we refer to branded brick-and-mortar stores, e-commerce, and franchise resellers in their small but seemingly always busy shops as distinct channels. Working with these channel partners (like franchise stores or resellers), as well as continuous data-driven monitoring and process improvements are part of an effective channel management strategy.
Channel management's goal is, therefore – through customizing policies, products, sales approaches, marketing, as well as business software - to support the acquisition and servicing of customers within one specific channel, eventually resulting in more revenue and a greater market share. 
Transitioning to omnichannel management
The traditional way of looking at channel management has always been focused on analyzing the customer segment best reached by a specific channel in order to sell the most product. While optimizing channels for certain customer segments is a great way to start, the fundamental shift to the understanding that in the end it is always the customer who picks the channel, has led to an omnichannel approach. By opening up established structures and combining aspects of various channels to put customers' needs first, this approach has by now become the gold standard. It has allowed customers to start the process in one channel and finish it in almost any other.
Omnichannel processes are ubiquitous. We experience them every day in the guise of services such as:
Online purchases with pick-up at a store
In-store purchases with home delivery
Same-day delivery
For most of us, these customer-centric processes have become indispensable.  
Developing a successful (omni)channel management strategy
Let's sum it up: channel management as we understand it today has come to be about integrating all existing channels into a seamless channel-spanning approach. By breaking channels down into components that can interact flexibly, companies enable customers to customize the purchasing process to suit their needs. This allows them to find their own preferred or even personalized channel leading to true customer centricity.
This has not made channel management obsolete, however. Even though it is the customer who decides, channel management and the data it generates is still important for successful marketing. The strategy has shifted though, instead of focusing on optimizing individual channels, businesses need to optimize the modules and touchpoints these channels are built from and the way they are connected. Only this way can they offer their customers to embark on their own customer journeys. Logistics solutions, stock management, POS (Point of Sale), products and strategies have all become building blocks in the quest to create a unified commerce solution.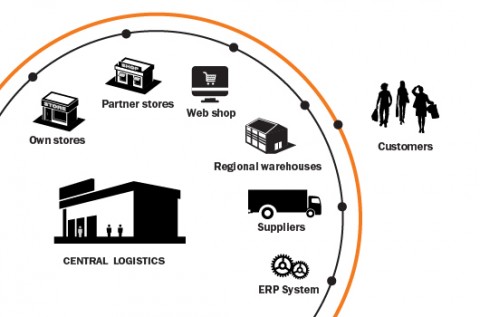 Solving the technological challenges of omnichannel
The complexity that can result from the interaction of all these individual building blocks poses new challenges. New challenges, which can be overcome. State-of-the-art retail, stock management, omnichannel distribution and POS solutions that allow the seamless integration with a successfully established infrastructure are the way forward. While it can be a challenge to take accurate stock of a company's products across multiple channels, with the right solution this challenge turns into an opportunity.  To give you an example: An enterprise stock management solution that covers omnichannel fulfillment and replenishment saves time and money. Instead of handling this per channel, businesses gain full visibility of their inventory across all channels and can carry out on-demand fulfillment with ease. No need to tediously do this separately for each individual channel
The different pieces of software, their modularity and their compartmentalization are not the problem, they are part of the solution. In order to benefit even more from this shift to omnichannel, all companies need are the right building blocks. They enable businesses to see across all channels, provide a seamless customer journey and gain absolute stock control and true business agility in the process.
(Omni)channel management: use cases & case studies
We have implemented hundreds of successful omnichannel projects over the course of the past few years and built up a lot of expertise in this field. Take a look at our whitepapers and case studies with leading telcos ranging from our state-of-the-art POS solution integration with stock management to same-day delivery processes for telco brands around the world.
Like we said in our opening, channel management has not disappeared, it has transformed into omnichannel management, and transformed how we approach it. Are you wondering how to set your business up for success in an ever-transforming omnichannel reality? Don't hesitate to get in touch and discuss how we can help you make the most out of this transformation.