Fresh from the lab: Redesigning our demo lab to boost online and on-site product showcases
At the NTS Retail headquarters in Leonding, our demo lab is the central point where we provide our clients, potential customers, and partners with practical insights into our product portfolio. Since its purpose is to showcase our solutions with real-life examples to give our visitors a good impression of what is achievable with our products, we were very happy to spruce up our lab a bit over the past few weeks. In this post, we would like to share a few impressions from our little demo lab makeover.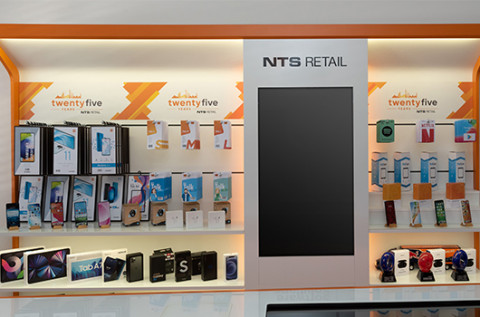 Celebrating 25 years of delivering premium telco retail transformation projects
A pleasant customer experience is always at the top of our list of priorities, while we design our solutions and when we consult with our clients. Building on that spirit, our teams strive to give tailored presentations in a way that is both inspiring and insightful to potential customers. Doing so, we rely on state-of-the art technology and a neat store design where our colleagues can focus on delivering demos to show how our products work and what they can do. Celebrating NTS Retail's 25th anniversary, we also made sure that our lab reflects the anniversary and that there are a couple of commemorative products in the shelves. Make sure to look out for them if you take the tour!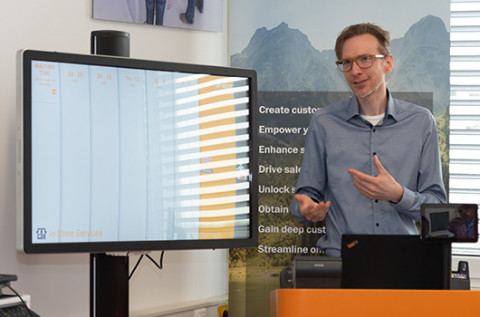 Recreating the modern telco store to showcase our solutions
As of now, the space includes multiple cash registers and payment terminals while it also features a fully functional self-service terminal and a touchscreen table for product browsing and consulting. The equipment allows us to recreate a telco store and model the interaction of several hardware devices to create a seamless experience. This setup allows us to really demo our solution up close and our customers and partners to assess the benefits in a very tangible way. Not only is our demo lab perfectly equipped to hold on-site presentations, but it is also very suitable for virtual demo sessions as it allows our team to transmit high-quality video broadcasts in a relaxed atmosphere.
Interested? Arrange a demo to learn how NTS Retail can help you amplify your retail environment.